Taro Brand, Taro Bread Mix.
Taro is a plant that has been cultivated for centuries by the Hawaiian People. The taro root is cooked and mashed to make poi, a traditional Hawaiian staple. We've dehydrated poi, and blended it with wheat flour to make an all-purpose bread mix. (HPC Foods, Ltd., Honolulu, Hawaii)
Our Guarantee. If you are not satisfied with the performance of this product, send the entire bottom panel along with your name, address, price paid and reason for dissatisfaction to HPC Foods, Ltd. An adjustment of equal value will be made.
---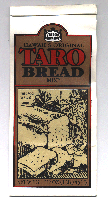 Taro Bread with a Bread Machine.
1 Package Taro Bread Mix.
1 to 1 and 1/4 Cups water.
1 Packet Yeast (included).
Bread Machine

Instructions
Follow your bread machines recommended water quantity for a regular, 3 cup bread mix.
Combine Taro Bread Mix, yeast, and water in bread machine. Set desired machine setting and start. Easy.
---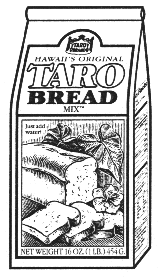 ---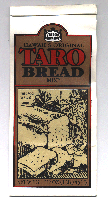 What you need for Taro Bread, Conventional Oven. Yield: 1-1/2 lb. Loaf.
1 Package Taro Bread Mix.
1 Packet Yeast (included).
1-1/8 Cups water.
1 5-1/2 x 9-1/2 inch Bread Pan.
Measuring cup.
Bowl.
Cloth to cover bowl.
Some butter.
Oven.

Recipe for taro balls.

Dissolve yeast in luke warm water.
Combine the Taro Bread Mix, water, and yeast in the bowl. Mix into dough.
Knead dough in the bowl for 5-8 minutes and let it sit covered with a cloth until it doubles in size (about 1-1/2 to 2 hours).
Punch dough down to let the air out and place it in the bread pan (lightly buttered).
Let the dough sit until it doubles in size and place in the preheated oven.
Preheat oven to 375 degrees F.
Bake for 30 minutes or until golden brown. You can do this.
---
To measure: Spoon into dry measuring cup and level with knife. Do not sift!

---
Ingredients:
Enriched bleached wheat flour (wheat flour, malted barley flour, niacin, iron, absorbic acid, thiamine mononitrate, riboflavin), dehydrated poi, sugar, dextrose, partially hydrogenated soybean oil, salt, whey, yeast, soy flour, sodium stearoly lactate, red 40 and blue 1.
UPC 0 74930 21000 6 is the 16 oz, 454 G, bag.
Nutrition Facts
Serve. Size 1 serving (1/3 cup mix) 1/11 loaf. Servings per package, about 11.
Calories: 200. Calories from Fat: 25
Percent Daily Values (DV) are based on a 2,000 calorie diet.
Total Fat 3G: 5%
Sat. Fat 0G: 0%
Cholest. 0mg: 0%
Sodium 440mg: 18%
Total Carb. 39g.: 13%
Fiber 3g.: 12%
Sugars 5g:
Protein 5g
Vitamin A 0% * Vitamin C 0% * Calcium 2% * Iron 4%
---
Copyright &copy 1999, spiced.com contact: spiced@spiced.com
Script Copyright &copy 1996-1999, John Suzuki & Rick Torzynski.
Artwork, Product descriptions and copy is copyright &copy HPC Foods, Ltd.