Taro Brand Poi Powder.


---

What you need.

Poi Powder.
Half Cup water, 4 ounces.
Measuring spoon.
Microwave safe bowl or saucepan.
Microwave oven or stove.

Recipe for poi.


Mix 2 Tblsp. of poi powder into 1/2 cup of water, Stir to wet the powder.
Cook with a microwave oven:
Cook on high for four (4) minutes. Stir and resume heating for another two (2) minutes. Stir until smooth.
Or,
Cook on a stove top:
Heat in the saucepan on high. Stir until smooth.
Cool 10 to 15 minutes before serving. Simple to prepare.

---

Ono for some poi but not close to da store?
Well, if you had dis stuff in your cupboard den, no need go supa-makit. Jes open the package and cook. Den what - you got poi !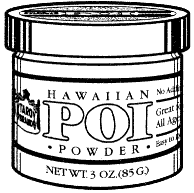 ---
Ingredients: Ground, dried taro.
UPC 0 74930 16010 3 is the 85 G, 3 ounce jar.
UPC 0 74930 16020 3 is the 453.6 G, 16 ounce poly bag.
The 5 pound bag does not have a UPC number.

Nutrition Facts
Serve. Size 1 serving (28g powder) 4.5 ounces after mixing with water.
Calories: 90. Calories from Fat: 0
Percent Daily Values (DV) are based on a 2,000 calorie diet.
Total Fat 0G: 0%
Sat. Fat 0G: 0%
Cholest. 0mg: 0%
Sodium 25mg: 1%
Total Carb. 23g.: 8%
Fiber 2g.: 8%
Sugars 0g:
Protein 0g
Vitamin A 0% * Vitamin C 0% * Calcium 2% * Iron 6%
---
Copyright &copy 1999, spiced.com contact: spiced@spiced.com
Script Copyright &copy 1996-1999, John Suzuki & Rick Torzynski.
Artwork, Product descriptions and copy is copyright &copy HPC Foods, Ltd.