Spiced® Com Presents:
Hawaiian Style
"Surfah" Rubber Slippers

---
These slippers are great for walks to a sandy beach or around the house. In Hawaii, these comfortable and inexpensive slippers are worn by just about everybody, to just about everywhere.
To determine your slipper size, Just STAND on a ruler. The length of your foot (plus a little bit) is the size you need. Make sure you are getting the measurement from the back end of your foot past the tip of your longest toe. The sizes are the lengths indicated and you should make it a bit longer than your foot, with your full weight on it.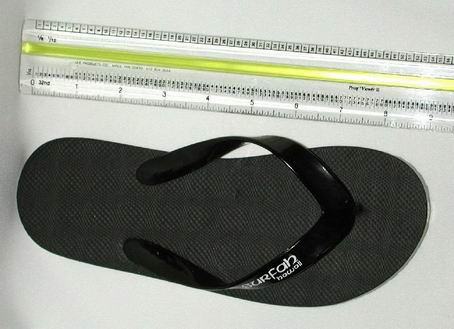 ---
For more information, please select a pair of "Surfah" slippers.
---
---
Please Try these Brands

---
These slippers are designed in Hawaii but made in China.
We use Priority Mail with a confirmation tag.
The weight of a shipping carton has to be added to the items of your order.
Prices are in US Dollars.
Quantity breaks and wholesale rates are available.
---
Copyright &copy 1996-2002, Spiced ® Com
contact: salt@spiced.com
Product Copy &copy, Surfa Slippers.