Mulvadi Coconut Syrup and, Guava Syrup
---
Hawaii Coconut Syrup & Hawaii Guava Syrup
Used by the finest restaurants and hotels in the State of Hawaii. These wonderful syrups are made in Hawaii and can be used on pancakes, waffles, desserts and Pina-coladas.
Make the perfect Hawaiian breakfast with these gourmet syrups, over poi pancakes.
One try and you'll taste the flavors of the islands, all over again.
These syrups are 10 fluid ounces.

---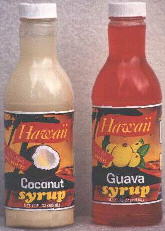 ---
Ono (In Hawaiian, good to eat)
Coconut Syrup Ingredients:

Secret
Stuff

UPC 644054-51001
Guava Syrup Ingredients:

Secret
Stuff

UPC 644054-51002
---
Nutrition Facts