Maui Style, Maui Onion Flavored, Potato Chips
---
Frito-Lay, Inc. Hawaii.
Maui Style Potato Chips
Howzit, potato chip freaks! Have you ever wondered why Maui Onions taste so unreal? It's because they're so happy! I mean, where else can an onion wake up every morning, grab his board, padddle out into the crystal blue, and clock some major tube time in the most awesome wave on the planet? Oh, like Kansas maybe? Yeah, right...as if! There's NO place as classic as MAUI. Except maybe Bali, but I don't think Indonesian onions can surf.
---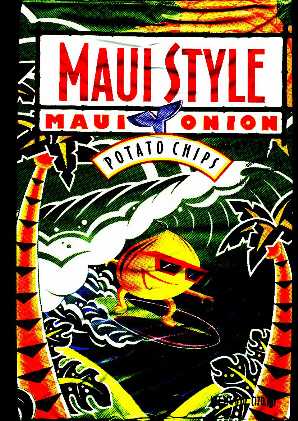 ---
Maui Style, Maui Onion Flavored Potato Chips

Net WT. 6 oz. (170.1g)
Manufactured in Hawaii by Frito-Lay, Inc.
GUARANTEED FRESH, till the date printed on the package.

Ono (good to eat)
Ingredients:

Potatoes, Vegetable Oil
(Contains One or More of the Following:
Corn, Cottonseed, Sunflower, or Hydrogenated [Corn, Cottonseed, or Sunflower] Oil), Dextrose, Onion, Salt, Maltodextrin, Monosodium Glutamate, Modified Corn Starch, Malic Acid, Gum Arabic, Garlic, Maui Onion, Natural Flavors, Hydrolyzed (Corn Gluten, Soy, and Wheat Gluten) Proteins, and Caramel Color.
No Preservatives.

UPC 28400 07009
Nutrition Facts
Serving = Size 1 oz. (28g/About 14 Chips) 6 servings per package.
Calories: 150. Calories from Fat: 80
Percent Daily Values (DV) are based on a 2,000 calorie diet. Your Daily Values may be higher or lower depending on your calorie needs:
Total Fat 9G: 14%
Sat. Fat 2.5G: 12%
Cholest. 0mg: 0%
Sodium 180mg: 8%
Total Carb. 16g.: 5%
Fiber 1g.: 3%
Sugars less than 1g:
Protein 2g
Vitamin A 0% * Vitamin C 10% * Calcium 0% * Iron 0%
Calories per gram:
Fat 9, Carbohydrate 4, Protein 4.
---
Graphic and Text is copyright © 1998 by Frito-Lay, Inc.