Macadamia Nuts
---
Hawaiian Gourmet Macadamia Nuts.
World Famous Hawaiian Grown Macadamia Nuts. Dry Roasted and lightly salted for your enjoyment. A combination of whole and half nuts that have been described as the "Queen of Nuts." The very best of Hawaii.
---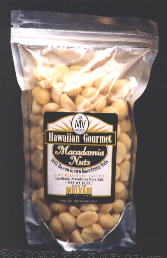 ---
Mulvadi Macadamia Nuts

100% Hawaiian Grown
Dry Roasted, Salted.
8 Ounces
Resealable Pouch.

Ono (good to eat)
Ingredients:

Macadamia Nuts, Salt
UPC 6-44054-90810-5
Nutrition Facts
Serving Size = 1 Ounce. (8 servings per package)
Calories: 220. Calories from Fat: 200
Percent Daily Values (DV) are based on a 2,000 calorie diet.
Total Fat 22G: 34%
Sat. Fat 3G: 15%
Chloest. 0mg: 0%
Sodium 60mg: 3%
Total Carb. 3g.: 14%
Dietary Fiber 3g.: 8%
Sugar 1g:
Protein 2g
Vitamin A <0% * Vitamin C <0% * Calcium <0% * Iron 2%