Fried Rice, Chinese food seasoning mix
---
What you need.
1 Pkg. NOH Chinese Fried Rice Seasoning Mix, Net wt. 1 ounce, 28g.
4 cups cooked rice.
1/2 cup diced char siu (Chinese BBQ) or, cooked ham, spam chicken, shrimp.
1 tablespoon cooking oil.
1/2 cup frozen peas, thawed. 1/4 cup thinly sliced green onions.
Recipe for Chinese Fried Rice:

Heat oil in skillet. Place diced meat in skillet and sprinkle 2 tablespoons of NOH Chinese Fried Rice Mix. Sir fry for 1 minute on medium heat. Add cooked rice and mix. Add remaining ingredients and mix well.
OPTIONAL: Add 1 lightly scrambled egg (minced) Try NOH Char Siu Seasoning Mix. Easy to prepare.
Ingredients:

Non-fat dry milk, cornstarch, sugar, powdered soy sauce (soy beans, starch, caramel color, salt), garlic powder, onion powder. No MSG added.
UPC 0 73562 00380 7
---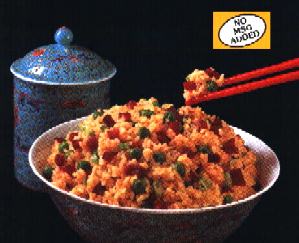 ---
Nutrition Facts
Serv. Size 1 serving (7g mix) (4 servings per package)
Calories: 20. Calories from Fat: 0
Percent Daily Values (DV) are based on a 2,000 calorie diet.
Total Fat 0G: 0%
Sat. Fat 0G: 0%
Chloest. 0mg: 0%
Sodium .7gm: 29%
Total Carb. 1g.: 1%
Fiber 0g.: 0%
Sugars 1g:
Protein 1g
Vitamin A <2% * Vitamin C <2% * Calcium <2% * Iron <2%