NOH, Filipino Adobo Mix,
Chicken or Pork Adobe
---
What you need.
1 Pkg. NOH Filipino Adobo Mix, Net wt. 1-1/8 ounce, 32g.
some water
1 pound pork or chicken
Other meats can be used (ie. spareribs, prawns, squid, turkey duck, lamb, etc.)
Small pan.
Stove top.

Recipe for Chicken or Pork Adobe

Use 1 pound of pork or chicken cut into 1-1/2 inch pieces. Place in a small pan. Add enough water to cover pork or chicken. Bring to a boil for 30-40 minutes or until tender. Drain Liquid. Add 1/2 cup water to Adobo Mix, blend. Add meat and simmer 10-15 minutes. Serve. Easy to prepare.
Ingredients:

Powdered vinegar, garlic, powdered soy sauce (soy beans, starch, caramel color, salt), black pepper, spices.
UPC 0 73562 00250 8
---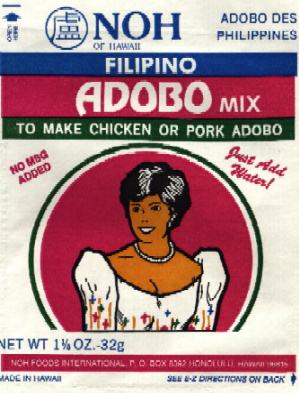 ---