Chinese Lemon Chicken, Sauce Mix.
---
What you need.
1 Pkg. NOH Chinese food. Lemon Chicken Sauce Mix, Net wt. 1-1/2 ounce, 42g.
1/2 cup water.
1 Pound chicken (cut into 2" pieces.)
1/4 cup flour
2 tablespoons cooking oil.
Salt
Pepper
Sauce Pan.
SUGGESTED USE: If preferred, use already fired chicken and cut into 2" pieces.

Recipe for Chinese Lemon Chicken:

Combine contents of package with 1/2 cup of water and blend/stir well in sauce pan and set aside. Salt and pepper chicken pieces. Roll in flour and fry until done. Bring sauce mix to a boil, stirring constantly. Pour over cooked chicken and serve. Garnish with a lemon, sliced 1/8" thick wheels, placed around the chicken on a platter. Easy!
Ingredients:

Powdered vinegar, sugar, powdered ginger, cornstarch, powdered lemon, FD & C yellow No. 5, other spices. No MSG added.
UPC 0 73562 00230 6
---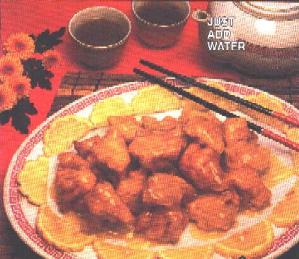 ---
Nutrition Facts
Serv. Size 1 serving (11g mix) (3 servings per package)
Calories: 35. Calories from Fat: 0
Percent Daily Values (DV) are based on a 2,000 calorie diet.
Total Fat 0G: 0%
Sat. Fat 0G: 0%
Chloest. 0mg: 0%
Sodium .34gm: 14%
Total Carb. 9g.: 2%
Fiber 0g.: 0%
Sugars 7g:
Protein 0g
Vitamin A 0% * Vitamin C 2% * Calcium 2% * Iron 2%