Chinese Roast Chicken.
---
What you need.
1 Pkg. NOH Chinese Roast Chicken Seasoning Mix, Net wt. 1-1/8 ounce, 32g.
1 pound of chicken (either whole or parts).
1 table spoon water
Oven or BBQ grill

Recipe for Chinese Roast Chicken Seasoning Mix:

Combine contents of package with 1 tablespoon water; blend well. To a rinsed and cleaned chicken, rub sauce onto all areas. Let stand approximately 15 to 30 minutes. Preheat oven to 350 degrees F. Bake or roast chicken for 25 minutes. Reduce heat to 300 degrees F. and cook 20 minutes more or until done. Or, Barbecue the chicken on a grill until done. So easy.
Optional: Dry mix can be rubbed directly onto chicken before cooking.
Also excellent for turkey, duck, beef, fish, or pork.
Easy to prepare and shop for.
Ingredients:

Powdered soy sauce (soy beans, starch, caramel color, salt), sugar, salt, onion powder, garlic powder, powdered orange peel, allspice, dried parsley, spices.
UPC 0 73562 00180 8
---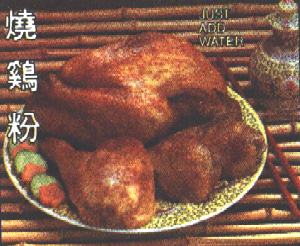 ---