Japanese Teriyaki
Teriyaki Steak Sauce and Marinate
---
What you need.
1 Pkg. NOH Japanese Teriyaki Seasoning Mix, Net wt. 1.5 ounce, 42g.
1/2 cup of water.
1 pound of meat
Marinate bowl or pan.
BBQ, fry or broil.

Japanese Teriyaki:

Combine contents of package with 1/2 cup water in a bowl, blend well. Marinate meat; steak - chops, ribs, beef, pork, or fish for 2 to 4 hours. Barbecue, broil, or Fry. You can do this. So easy
Japanese Teriyaki Chicken and Tofu:

Boil Chicken in water for 30 minutes or until tender. Discard cooking liquid. Add NOH Teriyaki Mix with a half cup water and simmer for 5-10 minutes until done. For Tofu, Excellent seasoning for tofu.
Ingredients:

Powdered soy sauce (soy beans, starch, caramel color, salt), sugar, powdered ginger, onion powder, flavor enhancer (monosodium glutamate), spices.
UPC 0 73562 00130 3
---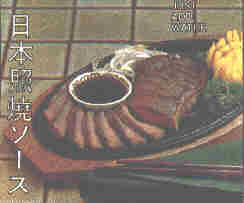 ---