Teriyaki, Hawaiian Style Teri-Burger
Teriyaki Meatloaf
---
What you need.
1 Pkg. NOH Hawaiian Style Teri-Burger Seasoning Mix, Net wt. 1.5 ounce, 42g.
1/2 cup of water.
1 pound of ground beef
1 tablespoon cooking oil.
Large mixing bowl, fry pan or oven.

Hawaiian Style Teri-Burger:

Combine contents of package with 1/2 cup water in a large mixing bowl, blend well. Add 1 pound ground beef and mix thoroughly. Shape into patties. Heat 1 tablespoon oil in a skillet and pan fry patties a few minutes on each side or until done. Patties can also be barbecued or broiled. You can do this. So easy
Hawaiian Style Teriyaki Meatloaf:

Teriyaki Meat Loaf: Prepare as above. Preheat oven to 350 degrees F. Place the loaf in a lightly greased pan. Bake 30 minutes, or until done.
Ingredients:

Powdered soy sauce (soy beans, starch, caramel color, salt), sugar, powdered ginger, onion powder, wheat flour, spices.
UPC 0 73562 00120 4
---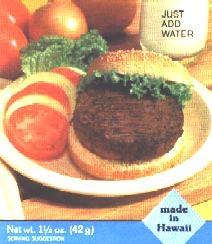 ---