Chinese Roast Duck,
Chinese Roast Pork.

---
What you need.
1 Pkg. NOH Chinese Roast Duck Seasoning Mix, Net wt. 1-1/8 ounce, 32g.
1 tablespoon water.
1 4-5 Pound duck.
Pan to Marinate.
Oven. SUGGESTED USE: Pork, Turkey, Chicken, Beef, Fish.

Recipe for Chinese Roast Duck:

Combine contents of package with 1 tablespoon of water and blend/stir well. Using a 4 to 5 pound duck, rinse duck inside and out and pat dry. Rub duck with sauce inside and out. Let marinate for 15-30 minutes. Place duck in oven at 350 degrees F. for 30 minutes. Turn duck over and cook for another 30 minutes. Reduce heat to 300 degrees F. for 45 minutes. Carve and serve. So easy, you can do this.
Ingredients:

Powdered soy sauce (soy beans, starch, caramel color, salt,) sugar, onion powder, garlic powder, orange peel, all spice, parsley, other spices. No MSG added.
UPC 0 73562 00100 6
---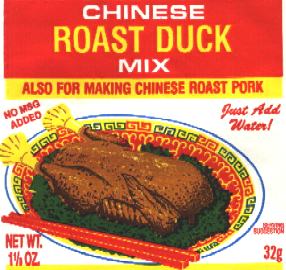 ---
Nutrition Facts
Serv. Size 1 serving (8g mix) (4 servings per package)
Calories: 25. Calories from Fat: 0
Percent Daily Values (DV) are based on a 2,000 calorie diet.
Total Fat 0G: 0%
Sat. Fat 0G: 0%
Chloest. 0mg: 0%
Sodium 710mg: 30%
Total Carb. 6g.: 2%
Fiber 0g.: 0%
Sugars 5g:
Protein 0g
Vitamin A <2% * Vitamin C <2% * Calcium 2% * Iron 2%