Korean Kim Chee
---
What you need.
1 Pkg. NOH Korean Kim Chee Mix, Net wt. 1-1/8 ounce, 32g.
1 gallon (16 cups) water
5 pounds of cabbage (Won Bok- Chinese cabbage or round cabbage.)
Other vegetables can be used (ie. turnips, cucumbers, etc.)
1 cup of Rock Salt (medium kiln), or 1 cup of table salt.
Large container.

Recipe for Korean Kim Chee

Fill a large container (pot, pan, etc.) with 1 gallon of water. Add 1 cup salt. Cut cabbage 1.5 x 2 inches in size. Place all of the cut cabbage into the container of water. Using a large, heavy dinner plate, keep the cabbage submerged under water for at least 8 hours. After this period, rinse the cabbage in tap water and drain in colander.
Empty 1 package of NOH Korean Kim Chee Mix into the large container. Add 1/2 cup of water and mix well. Add the cabbage and mix thoroughly. After mixing, place cabbage in a quart-size container (ie. jar with a lid). Press the cabbage down firmly, allowing 1/4 space at the top. Close the lid and allow to stand for 1 day (unrefrigerated). This will develop the full flavor. By following these directions, you will have made two (2) quarts of Kim Chee. Refrigerate. Very Spicy

Turnip Kim Chee:
Follow the above directions but slice the turnips into 1/8 inch slices.
Cucumber Kim Chee: (5 lbs of cucumbers)
Cut cucumbers into 1 inch cubes. Place in a large container and sprinkle with 1/2 cup of table salt. Mix thoroughly. Let stand for 10-15 minutes. Rinse in tap water and drain in colander. Add 1 package of NOH Korean Kim Chee Mix and mix well. Place in quart-size container (do not press down) and refrigerate.
Ingredients:

Chili pepper, garlic, ginger, shrimp, salt, sugar, paprika.
UPC 0 73562 00070 2
---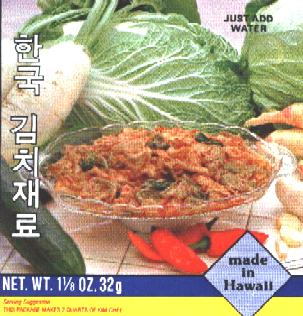 ---