Hawaiian Style Curry sauce. Fast Curry Meals.
---
What you need.
1 Pkg. NOH Hawaii Style Curry sauce mix., Net wt. 1-1/2 ounce, 42g.
1-1/2 cups of water.
1 Pound stew meat (beef, chicken, lamb, etc.)
1 Tbsp. cooking oil. 1/2 cup flour. 2 cups carrots -cut 1 inch size. 2 potatoes - cut into quarters. 1 onion. 2 celery stalks, sliced. Small pot.
Stove Top. SUGGESTED USE: Pork, Turkey, Chicken, Beef, Shrimp.

Recipe for Hawaiian Style Curry:

In a small pot, combine contents of the package with 1-1/2 cups water and bring to a boil; stirring constantly. When sauce begins to bubble, pour over cooked shrimp, beef, chicken, etc. and serve.
Recipe for Curry:

Add contents of package to 1-1/2 cups of water, blend well and set aside. Sprinkle salt and pepper on meat and roll in flour. Using a cooking pot, add oil and lightly cook meat until browned. Add carrots, potatoes onions, celery and cover with water. Boil for 30 minutes and add "Curry Sauce Mix" and continue cooking for 10 minutes. You can do this. So easy, to prepare and serve.
Ingredients:

Non-fat dry milk, cornstarch, curry powder, onion powder, sugar, salt, other spices. No MSG added.
UPC 0 73562 00040 5
---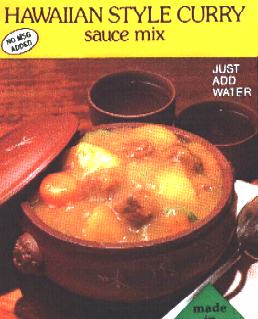 ---