Char Siu,
Chinese Barbecue

---
What you need.
1 Pkg. NOH Chinese Barbecue Seasoning Mix, Net wt. 2.5 ounce, 71g.
1/2 Cup water.
1 1/2 pounds pork (pork butt, ribs, chicken, duck, turkey, etc.
Pan to Marinate, Oven.
OPTIONAL-Dry mix can be rubbed directly onto the meat before cooking.

Recipe for Char Siu:

Combine contents of package with 1/2 cup water; blend/stir well. Cut 1 1/2 pound of pork into 2" by 2" by 4" pieces. Marinate in sauce for 2 to 4 hours, or overnight for best results. Preheat oven to 350 degrees F. Place pork on a rack in a roasting pan and cook for 20 minutes. Turn meat and cook 20 minutes longer or until done. Baste occasionally with marinade. So Easy!
Ingredients:

Sugar, powdered soy sauce (soy beans, starch, caramel color, salt), onion powder, garlic powder, other spices, red No. 3. No MSG added.
UPC 0 73562 00020 7
---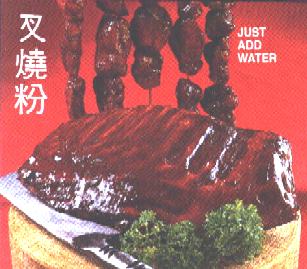 ---
Nutrition Facts
Serv. Size 1 serving (12g mix) (6 servings per package)
Calories: 40. Calories from Fat: 0
Percent Daily Values (DV) are based on a 2,000 calorie diet.
Total Fat 0G: 0%
Sat. Fat 0G: 0%
Chloest. 0mg: 0%
Sodium 480mg: 20%
Total Carb. 9g.: 3%
Fiber 0g.: 0%
Sugars 9g:
Protein 1g
Vitamin A <2% * Vitamin C <2% * Calcium <2% * Iron <2%