Chinese Beef Tomato Sauce Mix
Chinese Beef Broccoli

---
What you need.
1 Pkg. NOH Chinese Beef Tomato Sauce Mix, Net wt. 1-1/8 ounce, 32g.
1 Cup water.
1 pound beef.
1 round onion cut into 1/4 inch slices.
1 cup sliced celery.
1 bell pepper, cut into 1-inch cubes.
2 tomatoes, cut into 8 wedges each.
Skillet or Wok
Recipe for Beef Tomato:

Combine contents of package with 1 cup water; blend/stir well. Slice beef thinly into strips 1/8" by 1.5" by 1 inch; add to marinade. Heat skillet or wok; stir-fry beef for 1 minute. Add onion, celery and bell pepper; stir-fry for 2 to 3 minutes. Add tomatoes and cook 1 minute more. You can do this.
Recipe for Beef Broccoli:

Same as above but, use 3 cups broccoli, sliced 1/8 diagonally; and leave out the tomatoes and bell pepper. Simple, fast and delicious.
Ingredients:

Non-fat dry milk, cornstarch, sugar, powdered soy sauce (soy beans, starch, caramel color, salt) Garlic powder, onion powder, spices. No MSG added.
UPC 0 73562 00010 8
---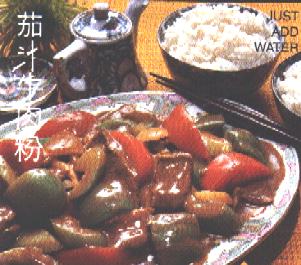 ---
Nutrition Facts
Serve. Size 1 serving (7g mix) (4 servings per package)
Calories: 20. Calories from Fat: 0
Percent Daily Values (DV) are based on a 2,000 calorie diet.
Total Fat 0G: 0%
Sat. Fat 0G: 0%
Chloest. 0mg: 0%
Sodium 700mg: 29%
Total Carb. 4g.: 1%
Fiber 0g.: 0%
Sugars 1g:
Protein 1g
Vitamin A <2% * Vitamin C <2% * Calcium <2% * Iron <2%