NOH of Hawaii,
Makes food taste good - easy cooking. You can make exotic, international foods using these gourmet powders.

---

Various Manufactures
Mulvadi Sweet Syrups. Frito Lay Maui Style Potato Chips, Mele Macs, Snack foods and general products are offered here too.

---

HPC Foods Ltd.,
Distributors of Fresh and Packaged Hawaiian Ethnic Foods. Taro Brand.

---

Drop In.
Animated Gif and Web Movies from your video tape? A less expensive and effective way to dress your pages. Get your commercials on line now!

---

Gift Basket
Last order date for Christmas is 12/5/2005
---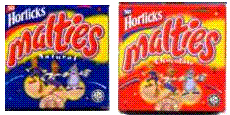 Horlicks Malties
Remember these? Malt Candy Tablets that came in a bottle?

---

Jade Seeds
The only commercial manufacturer of this type of Asian Preserves, in the USA.

---

Surfah Rubber Slippers
Beach and casual footwear.

---

Your WWW Pages? A Turn Key Solution.
Store hosting Demo.
---