---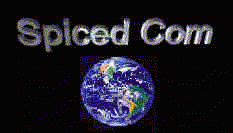 * Orders * Shipping * Foreign Exchange Rate *
---
The information you send when processing an order will not be used in any way other than to complete your current order. We will not pass your email address to anyone. We will not contact you (spam) unless we have to, regarding some aspect of your current order.
Your Order Information (when processed at Spiced Com) is never held on this Internet server. Your Data is split and sent to two other services, when you use our system as recommended by the prompts at applicable data fields.
We accept VISA and MasterCard. Credit Card services PayPal and C2it are welcome here too.
For your security, Spiced Com is on a secure server which is an option you choose while shopping. If you are using the "framed" format, the SSL (Secure Sockets Layer) server mode (SSL encrypts the information exchange between your browser and our server) may not be evident when you get to the order information screens. If you are not comfortable with this, please uses the non-frames mode by going back to the home page and select No Frames.
Even if we are on a secure server, you may add more security to your order by sending your credit card information to us in two packets. If your browser does not have SSL capabilities, this is the method you should use.
You can order from us using your Business and personal Checks over the WWW too. Check out our WebChecks below.
---

Web Checks - Bank Drafts
Pay Pal, Credit Card Payment
Currency Exchange
Shipping Information

1. The shopping cart will email your order to you. Please review your order receipt.
2. The subject is the number assigned to your order.
3. Please save or print out your order.
Thank You!!!
---
For Orders Paid by Check or money order
Save the email to a text file or, use your EMAIL respond capability to complete your order if you want insurance or a rush method of freight.
Complete the order with any special instructions or information in your word processor or (EMAIL program) then; print the order. (Cancel the message if you are using your EMAIL program.
Please mail the completed order form to spiced.com.
If you are PAYING BY CHECK, print out the order and send it to us with your check and instruction.

Thank You!!!
Make Please make your Check or Money Order Payable to: Spiced Com
SPICED COM
P. O. Box 61511
Honolulu, Hawaii 96822

* Credit Card and Checks will be verified before shipping.


Shipping Information

---
For INTERNATIONAL ORDERS or Rush Orders
For destinations outside of the United States or for faster service, EMail us your "RECEIPT" for a quote with your "ORDER NUMBER and QUOTE" as the subject: 123456789 QUOTE. And any special instructions you have. The freight charges reflected on your receipt will be credited toward any adjustments in shipping charges you may develop.

The following link will show you the current exchange rate. This is only a guide. Spiced Com has to NET, in US Dollars, the amount reflected on your order receipt at the time of processing.

Currency Exchange

---
If you have any questions or problems please EMail us so we can make it right. We will replace and correct any order where we made an error or your product is defective for a cause other than problems caused in shipping.

We have a 30 day exchange policy where packages are credited back to you less a 15% handling charge. Returns for exchange must be in excellent condition, and you pay the return freight. Food items will not be allowed exchange credit if the products have broken or worn seals, lot number mismatch the original order lot, or the packages are suspect, etc.)

A photo copy of the return authorization form must be included with your returned package, to credit you properly.

Prices are subject to change. But, all prices are good for 21 days of your order, emailed confirmation receipt.
Shipping and handling is a separate charge to the product.
Prices are in US Dollars.
Hawaiian Destinations, excise tax should have been added.
---
Copyright &copy 2002, SPICED.COM
contact: spiced@spiced.com
---